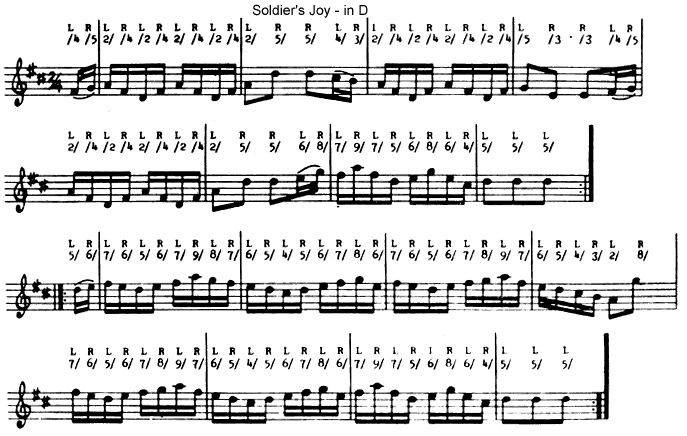 Happy Friday! After a couple of excursions into the outer reaches of the banjo world, we're about as traditional as can be this week—the only concession to my quirky tastes is that this old-time standard is being played two-finger style rather than the more common old-time clawhammer playing style.

As was the case when I used a video to illustrate my post about the two-finger style, the player is Richard Hood, who plays in The Bristol Brothers, & in also an accomplished fingerstyle guitarist.

But rather than going over old ground, I just want to note that "Soldier's Joy is a venerable piece of music, both as an instrumental dance tune & as a vocal song. It was famously recorded as a vocal by Riley Puckett with Gid Tanner & the Skillet Lickers for Columbia in 1929. This version was a wild romp, with the concluding verse running as follows:
25 cents for the morphine, 15 cents for beer




25 cents for the morphine, they're gonna drag me away from here.

"Soldier's Joy" has remained a staple in old-time circles, & has crossed over to Bluegrass as well. But the tune itself is old, with British Isles origins; a hornpipe with antecedents in both Scotland & Ireland. Sheet music to the tune exists from the eighteenth century, & there are a number of variations that share parts of the lyrics & the tune, including "Hog-Eye Man" & "Love Somebody, Yes I Do."

Given "Soldier's Joy" popularity as an instrumental tune, there are countless arrangements for all the instruments typically found in old-time music settings: fiddles, banjos, mandolins, dulcimers, & guitars. The image at the top of the page gives hammer dulcimer tab above the standard notation. "Soldier's Joy" is invariably played in the key of D.

But mostly, it's a song to be enjoyed, & Mr Hood does a wonderful job on a vintage short-scale fretless banjo!