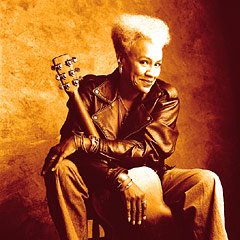 Happy Monday, friends! It's time for another installment in the Any Woman's Blues series, & we sure have some fun music today.

The blues can be many things: mournful, certainly, as the name implies, but that's far from the whole story. The blues can also be funny, sexy & even topical—this has been true from the days of the classic blues right thru until today, & one performer who exemplifies these aspects is Gaye Adegbalola.

Gaye Adegbalola first made a name for herself on the music scene in the early 1980s as a member of the group Saffire—the Uppity Blues Women. Saffire was a real phenomenon, as the group used the blues to tackle a number of feminist issues in their original numbers, many of which were penned by Adegbalola, & in doing so, was able to establish an audience beyond the parameters of the typical blues group. They were the first acoustic act signed by the electric blues Alligator label, & they released 10 albums before disbanding amicably in 2009.

Gaye Adegbalola began to perform & record as a soloist in the late 1990s—her first solo album. Bitter Sweet Blues, was released in 1999 on Alligator, & she has since released four additional albums on the Hot Toddy Music label, including this year's Blues in All Flavors.

According to Adegbalola's website, "she is a mother, a Blues Music Award winner and a former Virginia State Teacher of the Year. She now sees herself as a contemporary griot—keeping the history alive, delivering messages of empowerment, ministering to the heartbroken, and finding joy in the mundane."

Gaye Adegbalola continues to deliver her message of empowerment via the blues—she is an activist for African American, Feminist & Gay issues, & a seeker of justice, who also happens to be a great songwriter, a wonderful singer & an accomplished guitarist, both in the fingerstyle & slide modes.

Enjoy!








Image links to the original on the Alligator Records site.